Come annunciato ad inizio anno, la nostra testata ha svolto una ricerca a riguardo delle modifiche subite da molte delle vie-cult di Maurizio "Manolo" Zanolla, ricerca che sarà pubblicata nel numero di Pareti di imminente uscita. In questo contesto abbiamo rivolto anche dieci domande pubbliche all'atleta feltrino, non ottenendo finora alcuna risposta. Durante questo periodo di incontri, di incroci di esperienze e di ricordi, ci siamo imbattuti in questo video amatoriale, inedito ed esclusivo, che può rappresentare un elemento utile, almeno per inquadrare il tema "Pinne Gialle", forse il più a lungo e duramente dibattuto sui social networks.
Girato durante la salita di Zanolla posteriore alla schiodatura (come si vede dal video la schiodatura non è totale) e con materiale proprio della scalata trad, il video riprende lo scalatore lungo la prima parte del tiro chiave della via Pinne Gialle alla Tognazza. All'epoca di questa salita (2016) questa performance venne definita "trad" su tutti i principali siti web. Il belayer Eric Girardini dichiarò che Zanolla salì "dopo aver tolto tutti gli spit al tiro duro di Pinne Gialle" e Zanolla scrisse che "E' da specificare che non tutte le protezioni sono state inserite durante la salita". Nella primissima parte del video si vede Zanolla martellare una protezione, pre-posizionandola all'interno di una fessura.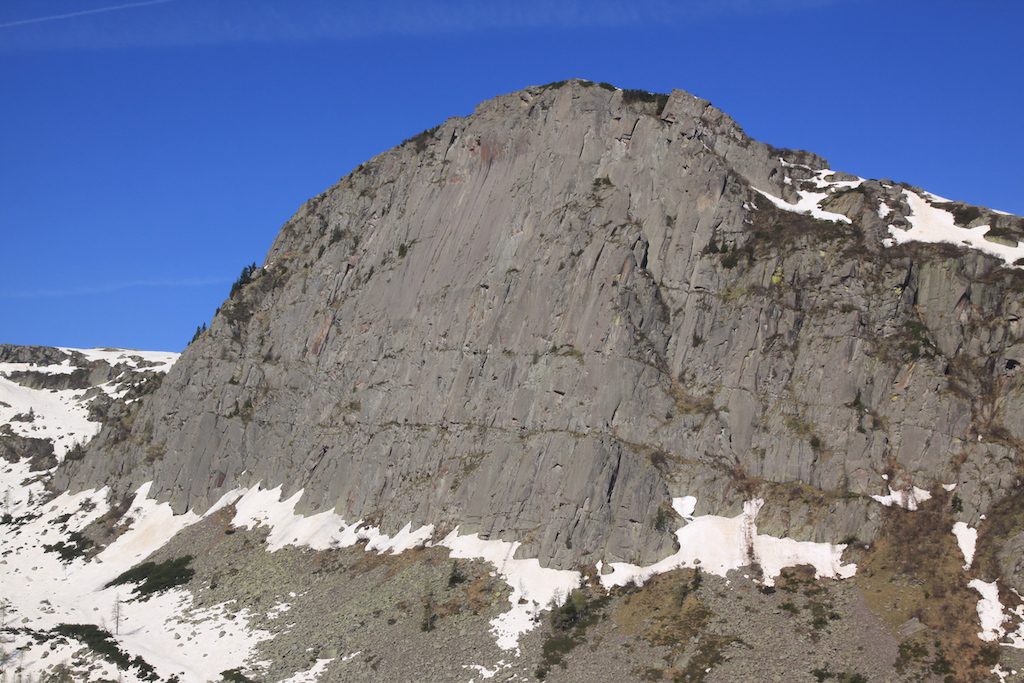 Questo documento video riveste una certa importanza nell'ambito della nostra inchiesta sulle vie di Zanolla in quanto, nel 2016, Il "caso Pinne Gialle" era diventato una sorta di tormentone social che aveva diviso profondamente i fan di Manolo da quelli di Scarian e Zeni (Zeni fresco recente salitore RP di Eternit). Scarian e Zeni avevano infatti dichiarato di aver perso interesse alla salita di Pinne Gialle dopo aver ravvisato dei cambiamenti nella via successivi alla loro prima ricognizione. Manolo e Andrea De Giacometti (che aveva dichiarato la seconda RP nella versione a spit) avevano negato la circostanza, tanto che la schiodatura e la susseguente ripetizione "trad" era stata vissuta da molti fans di Manolo come la dimostrazione della falsità di quanto affermato dalla coppia Scarian – Zeni. E, per la proprietà transitiva, anche delle presunte manipolazioni di Eternit e delle altre vie contestate di Zanolla.
Cosa aggiunge questo video alla vicenda?
Questa è una considerazione che lasciamo ai lettori. Siamo convinti che questo video sarà letto in modi molto differenti a seconda dell'età, della storia personale, del livello di conoscenza delle etiche di scalata di ognuno, eccetera eccetera.
Come Rivista ci teniamo a rimarcare solo alcuni punti fermi: A) Parte del tiro è stata scalata con la corda dall'alto (4 o forse 5 punti di protezione sopra all'attacco del tiro) B) Uno di questi punti è certamente un fix e non una protezione mobile. C) Agganciati all'imbragatura, sin dalla partenza, Manolo sembra avere solo tre pezzi di materiale, uno a sinistra e due a destra e uno di quelli a destra è un rinvio.
Sulla base di queste considerazioni ci sentiamo di affermare che la prima scalata trad del tiro chiave di Pinne Gialle è ancora da fare. Se c'è qualcosa di buono che questa vicenda ha prodotto è certamente l'apertura di una nuova possibilità per chi vorrà partire con i pezzi dal basso come si fa normalmente in questa disciplina. Una nota tecnica a proposito del video: interrogata a riguardo del perchè il video sia incompleto, la nostra fonte ha dichiarato che la batteria del suo dispositivo si era scaricata.
English
During our research on the changes undergone by many of Maurizio Manolo Zanolla's cult routes, research that will be published in the upcoming issue of Pareti, we came across this amateur video. Shot during the Zanolla climb after the bolting and with trad climbing gear, the video shows the climber along the first part of the crux pitch of the Via Pinne Gialle at Tognazza. At the time of this ascent (2016) this performance was referred to as "trad" on all major websites. Belayer Eric Girardini declared that Zanolla climbed " after having removed all the bolts on the hard pitch of Pinne Gialle" and Zanolla wrote that "It should be specified that not all the protections have been placed during the ascent ". In the very first part of the video we see Zanolla hammering a protection, pre-positioning it inside a crack.
This video document is of some importance in the context of our investigation into the routes by Zanolla since, in 2016, the "Pinne Gialle case" had become a sort of social refrain that had deeply divided the fans of Manolo from those of Scarian and Zeni (Zeni fresh recent RP ascender of Eternit). Scarian and Zeni had in fact declared that they had lost interest in the ascent of Pinne Gialle after recognizing changes in the route following their first try. Manolo and Andrea De Giacometti (who had declared the second RP in the bolted version) had denied the circumstance, so much so that the bolting and the subsequent "trad" repetition had been experienced by many fans of Manolo as a demonstration of the falsity of what was stated by the Scarian couple – Zeni. And, due to the transitive property, also of the alleged manipulations of Eternit and of the other contested routes by Zanolla.
What does this video add to the story?
This is a consideration we leave to the readers. We are convinced that this video will be read in very different ways depending on everyone's age, personal history, level of knowledge of the ethics of climbing, etc.
As a magazine we would like to underline only a few fixed points: A) Part of the pitch was climbed with the top rope (4 or maybe 5 protection points above the attack of the pitch) B) One of these points is certainly a fix and not a mobile protection. C) Hooked to the harness, from the start, Manolo seems to have only three pieces of gear, one on the left and two on the right and one of those on the right is a quickdraw.
On the basis of these considerations, we would like to state that the first trad climb of the crux pitch of Pinne Gialle is still to be done. If there is something good that this story has produced it is certainly the opening of a new possibility for those who want to start placing the gear from the bottom as it is normally done in this discipline. A technical note about the video: When asked about why the video is incomplete, our source stated that the device's battery had run out.