L'altoatesina, classe 1986, è la terza italiana a raggiungere il 9a, scegliendo una classica per il grado, molto assettata su piccole arcuate nella parte alta, che la rendono un "Vione" veramente completo anche se complessivamente di resistenza.
Anche Laura Rogora l'aveva salita nel 2019. Angelika si può considerare una delle veterane del climbing italiano, molto capace di gestire i periodi di forma e di allenamento specifico per le diverse discipline che volta per volta decide di prediligere in una stagione. E' comunque una delle pochissime climbers al mondo a passare dall'altissimo livello su ghiaccio a quello su roccia nel giro di pochi mesi. La via è uno dei capolavori di Ramonet, come sempre sottogradata all'inizio e poi recuperata al vero valore dai ripetitori.
Foto di Grivel/Genis Zapater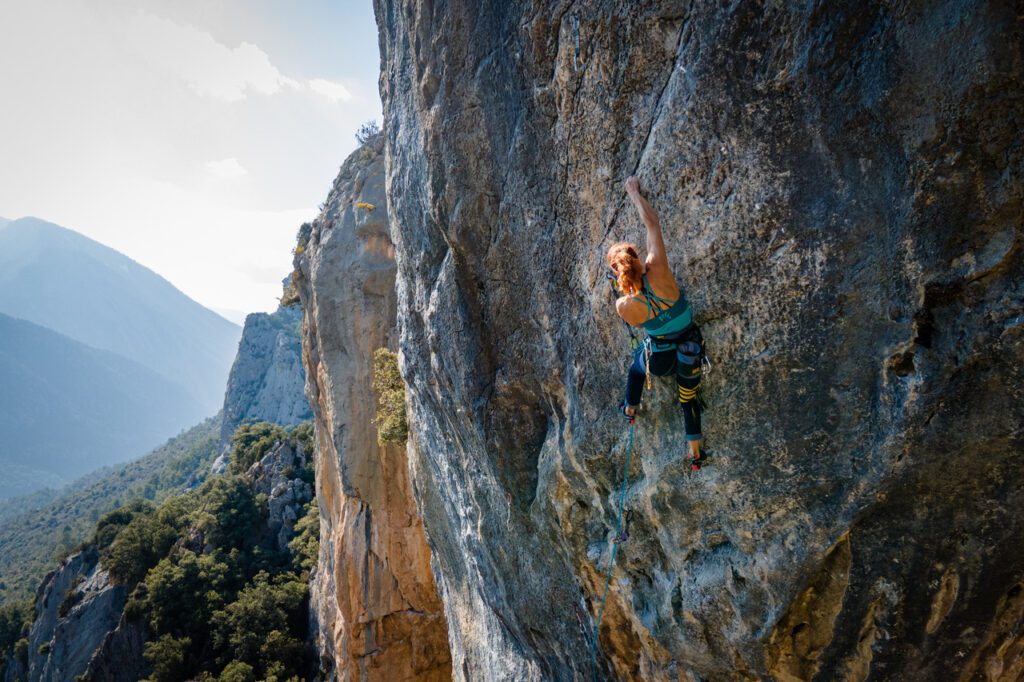 Ecco come Angelika descrive questo grande traguardo che corona una vita davvero dedicata alla verticale:
Il viaggio che mi ha portata qui è durato quasi 25 anni. È trascorso quasi un quarto di secolo da quella prima lezione di arrampicata, dopo la quale mi è subito stato chiaro che avevo trovato quello che mi piaceva d'avvero, era partita la scintilla, ma la strada non è stata né dritta né in piano, ci sono stati sali e scendi e ho preso molti bivi, scegliendo di sperimentarmi in varie discipline dell'arrampicata. Ma ad un certo punto ho deciso di tornare al mio primo amore: l'arrampicata su roccia.
Per la maggior parte di questi anni non ho nemmeno immaginato che un giorno avrei potuto arrivare a questo grado magico. Ma ad un certo punto il pensiero si è intrufolato nella mia testa, e come disse una volta Walt Disney: "If you can dream it, you can do it".
Dopo aver ammesso a me stessa, che questo sogno fosse inizialmente folle, è arrivato il duro lavoro. Ho deciso che avevo bisogno di un supporto professionale e ho iniziato ad allenarmi secondo i consigli del campione del mondo Patxi Usobiaga; poi ho scelto una via che poteva essere sul mio stile di arrampicata, cioè predominante di resistenza. 
A ottobre dell'anno scorso sono partita per un primo viaggio in Spagna per vedere se la via scelta poteva essere fattibile, ma soprattutto se mi sarebbe piaciuta. Arrivando nella frazione di Perles, un conglomerato di una decina di case di sassi ed una chiesetta romanica, si vede uno spettacolare arco di roccia, e proprio su uno dei lati di questo arco sale la linea di Esclatamasters; è stato chiaro da subito che il posto era bellissimo e che la via mi piaceva. Dopo qualche giro sono riuscita a fare tutti i singoli movimenti, anche se un paio erano d'avvero molto al limite e a questo punto ero carica e speranzosa, perché fare i singoli di una via, ha per me sempre significato che prima o poi li potevo concatenare tutti, cosa che credevo di poter fare anche per questa via. Durante questo primo viaggio, ho deciso di concentrarmi sul provare soprattutto la prima parte della via che strapiomba parecchio e richiede movimenti fisici, alternando canne da pinzare con svasi e qualche tacca. Alla fine del viaggio sono riuscita a fare Sin Perdon, un'8b+ che condivide con Esclatamasters tutta la prima parte e si separa alla grande canna a metà via. Le temperature ad ottobre erano più alte del solito e, insieme all'umidità nell'aria, creavano condizioni non ottimali per provare i movimenti sulla seconda parte della via, un muro grigio leggermente strapiombante con tacche sfuggenti, che spesso si tengono con meno della prima falange delle dita. 
Tornando a metà febbraio, ho trovato condizioni totalmente diverse, temperature più basse e un venticello frizzante, e sentivo le prese molto meglio. I miglioramenti sono arrivati quasi da subito. Il quarto giorno sulla via sono riuscita ad arrivare in catena con due resting ed il sesto giorno ho ridotto ad un solo resting. Da questo punto ho assistito ad un affascinante processo di continui miglioramenti che non avevo visto su nessun altro progetto in precedenza. Solitamente cadevo molte volte allo stesso movimento chiave, oppure in un tentativo miglioravo e in quello successivo peggioravo; qui invece ogni giorno che provavo la via ho avuto un progresso, riuscivo a fare uno, due, o tre movimenti in più per poi arrivare a rinviare la sosta con un urlo che ha risvegliato la valle, ed un sorriso enorme sulla faccia. 
Ringrazio il mio compagno Marco ed i miei amici Barbara e Gordon per il loro supporto, le sicure pazienti ed il  tifo caloroso e vorrei ringraziare i miei sponsor Karpos, Grivel, Kiku Apples e La Sportiva per essere sempre al mio fianco ed aver creduto in me anche nei momenti in cui ho deciso di cambiare. 
The South Tyrolean, born in 1986, is the third Italian to reach 9a, choosing a classic for the grade, very trimmed on small crimps in the upper part, which make her a truly complete "dreamroute" even if overall resistant. Laura Rogora had also climbed it in 2019. Angelika can be considered one of the veterans of Italian climbing, very capable of managing the periods of fitness and specific training for the different disciplines that she decides to prefer in a season from time to time. However, she is one of the very few climbers in the world to pass from the highest level on ice to that on rock in the space of a few months.
Here's how Angelika describes this great achievement that crowns a life truly dedicated to the vertical:
The journey that brought me here lasted almost 25 years. Almost a quarter of a century has passed since that first climbing lesson, after which it was immediately clear to me that I had found what I really liked, the spark had gone off, but the road was neither straight nor level, there were ups and downs and I took many crossroads, choosing to experiment in various climbing disciplines. But at some point I decided to go back to my first love: rock climbing.
For most of these years I didn't even imagine that one day I could get to this magical degree. But at some point the thought sneaked into my head, and as Walt Disney once said: "If you can dream it, you can do it."
After admitting to myself that this dream was crazy at first, the hard work came. I decided that I needed professional support and started training according to the advice of world champion Patxi Usobiaga; then I chose a route that could be based on my climbing style, that is predominantly resistance.
In October last year I left for a first trip to Spain to see if the chosen route could be feasible, but above all if I would like it. Arriving in the hamlet of Perles, a conglomerate of about ten stone houses and a small Romanesque church, you see a spectacular rock arch, and the Esclatamasters line rises right on one side of this arch; it was immediately clear that the place was beautiful and that I liked the route. After a few laps I was able to do all the single moves, even if a couple were really at the limit and at this point I was charged and hopeful, because doing the singles of a route has always meant for me that sooner or later I could concatenate everyone, which I thought I could do this way as well. During this first trip, I decided to concentrate on trying above all the first part of the route which overhangs a lot and requires physical movements, alternating clamping rods with flares and a few crimps. At the end of the trip I managed to send Sin Perdon, an 8b+ that shares the entire first part with Esclatamasters and separates at the big barrel halfway through. The temperatures in October were higher than usual and, together with the humidity in the air, created less than optimal conditions for trying the moves on the second part of the route, a slightly overhanging gray wall with receding crimps, which are often held with less than the first finger phalanx.
Back in mid-February, I found totally different conditions, lower temperatures and a crisp breeze, and felt the holds much better. The improvements came almost immediately. On the fourth day on the route I managed to reach the chain with two rests and on the sixth day I reduced it to just one rest. From this point I have witnessed a fascinating process of continuous improvements that I have not seen on any other project before. I usually fell several times on the same crux move, or got better on one attempt and worse on the next; here however, every day that I attempted the route I made progress, I was able to make one, two, or three more moves and then postpone the belay with a scream that awakened the valley, and a huge smile on my face.
I thank my partner Marco and my friends Barbara and Gordon for their support, patient assurances and warm support and I would like to thank my sponsors Karpos, Grivel, Kiku Apples and La Sportiva for always being by my side and believing in me even in the moments when I decided to change.