In pieno inverno, e inaspettatamente, la scena top mondiale si infiamma. Questa è la stagione durante la quale i top delle gare scaricano e i top della roccia faticano a trovare condizioni ottimali anche sulle pareti spagnole dove si concentra l'azione invernale.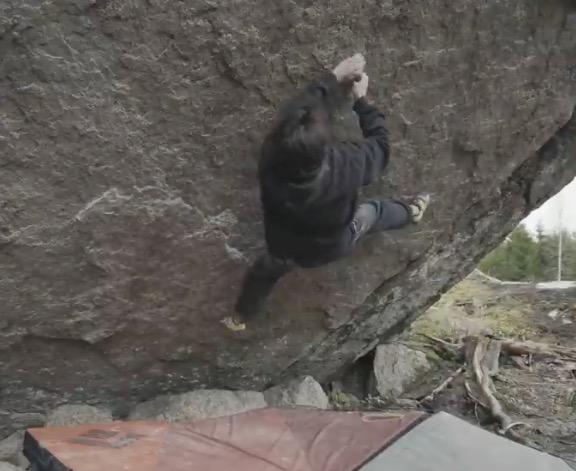 Fuori dagli schemi, Shawn Rabotou ha tributato una doverosa visita al primo 9a boulder mondiale, quella "Burden of dreams" di Nalle Hukkataival, cinque movimenti allucinanti su un pannello di roccia di un sasso qualsiasi a fianco di una stradina finlandese non lontana da Helsinki.
Bello? Con movimenti affascinanti? Guardate il video si Shawn su YouTube e fatevi una vostra idea. Quel che è certo è che il blocco si conferma davvero difficile e Shawn ne riesce ad eseguire i singoli, ma il link completo sembra ancora lontano e bisognoso di un allenamento specifico dedicato.
Ancora più interessante sarà poi seguire le performances del climber più in forma del momento, il britannico William Bosi, fresco ripetitore flash di "The dagger" e di "Dreamtime" in soli quattro giri. L'obbiettivo di Wil è Arco, dove c'è quella "Excalibur" a lungo provata da Ghisolfi, Ondra e Schubert, per ora ancora senza successo. La via è possibile, i campioni ne fanno i singoli e la via sembra molto adatta alle dita di Bosi. A suivre…
In the middle of winter, and unexpectedly, the world's top scene catches fire. This is the season during which the top comp climbers rest a bit and the top rock climbers struggle to find optimal conditions even on the Spanish faces where the winter action is concentrated.
Outside the box, Shawn Rabotou paid a dutiful visit to the world's first 9a boulder problem, that of Nalle Hukkataival's "Burden of dreams", five hallucinatory moves up a rock panel of anonimous stone alongside a small Finnish road not far from Helsinki.
Beautiful? With fascinating movements? Watch Shawn's video on YouTube and make up your own mind. What is certain is that the block proves to be really difficult and Shawn manages to perform singles, but the complete link still seems far away and in need of specific dedicated training.
Even more interesting will be following the performances of the climber in the best shape of the moment, the British William Bosi, a fresh flash repeater of "The dagger" and "Dreamtime" in just four laps. Wil's goal is Arco, where there is that "Excalibur" tested for a long time by Ghisolfi, Ondra and Schubert, but still unsuccessful for now. The route is possible, champions make each move and the route seems very suitable for Bosi's fingers. To follow…